By Alexis Huicochea, Arizona Daily Star – November 26, 2015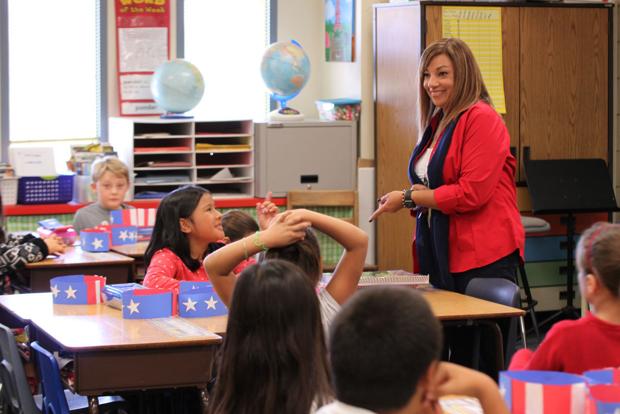 In her previous career,
Donna Varma
was a financial analyst in the health-care industry.
She had an office and took home a nice paycheck.
Varma still analyzes data — that of her third-graders at Rio Vista Elementary School, in the Amphitheater district, to determine whether they've mastered the concepts she is teaching them.
Her paycheck, well it's not as nice as it once was, but the 11-year teacher says she wouldn't change a thing.
Varma drives past nine schools to get to Rio Vista, 1351 E. Limberlost Drive, on the north side, a school that her oldest son attended in kindergarten more than a decade ago, because it is where she feels she can have the greatest impact.
"I feel that I understand them," Varma said. "I was the oldest of six and we didn't have a lot — that's the kind of population we have here. They don't have much but they have heart in everything they do."
The Rodel Foundation of Arizona feels Varma has made an impact, naming her a 2015 Rodel Exemplary Teacher for positively impacting achievement in a high-needs school.
The honor comes with $2,500 and the opportunity to mentor three promising student teachers.
To get to this point, Varma had to do some learning of her own, recalling a writing lesson plan that she put together in her first year of teaching.
"I wanted my students to imagine a beach and I had all of these blank stares," Varma said. "I asked why can't we do this? Two people had been to the beach."
The lesson for Varma: to engage students, make learning relevant.
Today there is little her students don't know about her as she weaves personal connections into lessons and incorporates what her students are familiar with as well.
For a lesson on imagery, Varma described a treat well known in the Hispanic community — an orange with saladito — in such detail that it left her students salivating.
"See, that's what good authors do," Varma told her students. "I didn't show you an orange, we don't have orange scent in here, it was all words. See how powerful words are?"
Though Varma pulls from students' experiences to make learning relevant, she also pushes them out of their comfort zones.
Just as she was clear about her expectations for her employees in the private sector, Varma articulates what she expects of her students often and holds them responsible for tracking their progress.
She praises them when they reach their goals and looks at what she could have done differently when they fall short.
Varma has also stepped up to support struggling students outside of her classroom, analyzing data and coming up with a plan to turn things around, said Rio Vista Principal Dianna Kuhn.
"I feel responsible for these little citizens to make sure they grow up and are contributing members of society," Varma said. "I had that one teacher that always believed in me and knew that I could do it when I didn't believe in myself, and if I can be that for one kid, then it's all been worth it."