By Alexis Huicochea, Arizona Daily Star – November 28, 2015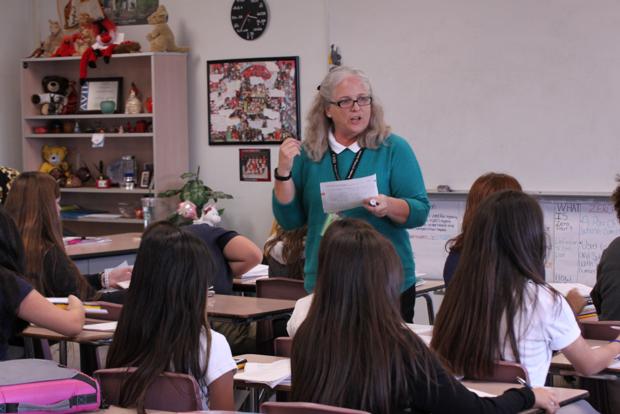 When
Polly Kimminau
talks about math, she lights up.
But it wasn't always that way for the veteran Amphitheater math teacher.
She recalls struggling early on in her education, but that all changed her sophomore year at Sabino High School when she met teacher Rick Hamilton.
"He was amazing," the seventh-grade teacher said. "Geometry was very hard for me, and he would work with me. He got me into a modified geometry class so I would be successful. He supported me all along the way and it started clicking."
It was then that Kimminau figured out her mission in life — to make math click for young people just like Hamilton made it click for her.
Over the last 29 years, Kimminau has gone to great lengths to infuse her love of math into her students.
"Polly has been known to take on the role of characters to excite her students about math," said Christine Sullivan, principal of La Cima Middle School. "Whether or not she is filming short video clips entitled, 'Math Minutes with Kimminacci' — an elderly woman who explains a variety of mathematical concepts, or becomes a math chef to offer a menu of choices for her students in terms of activities, she knows that when students are excited about learning, their achievement soars."
It's Kimminau's ability to inspire learning in a high-poverty school that has earned her the title of Rodel Exemplary Teacher.
The honor comes with $2,500 and an opportunity to share her expertise by mentoring promising student teachers.
Kimminau has spent the last three decades teaching in Amphitheater schools, first at Walker Elementary and at La Cima for the last 14 years.
The move to La Cima was a calculated one, with Kimminau waiting years for an opening at the northwest-side school that most of her elementary students fed into.
"I've had kids who have asked if I could go to high school with them, and that's where I draw the line," Kimminau said, adding that middle school is where her heart is.
"I've learned a lot of patience," she says. "But I prefer middle school, I prefer their personalities. Sometimes I'll got to a dance and watch how they're starting to socialize and make connections, and I get emotional because this is such a turning point in their lives."
While Kimminau has taught her students a great deal, it is what she has learned from them that has made her successful, she says.
"Flexibility. If somebody doesn't understand something and they're learning in a different way, then I have to be willing to change," Kimminau said. "When I first started teaching, I was real rigid, but that's one of the things I love about math. There are so many ways to solve a problem."